Workshops are opportunities for folks to share ideas and skills with others. They range from crafts like hoop drum making to skills like drumming to traditions like tarot to discussions like religion in politics. Workshops are typically held in the shade with around a dozen people attending.
2013 Workshop Schedule | Workshop descriptions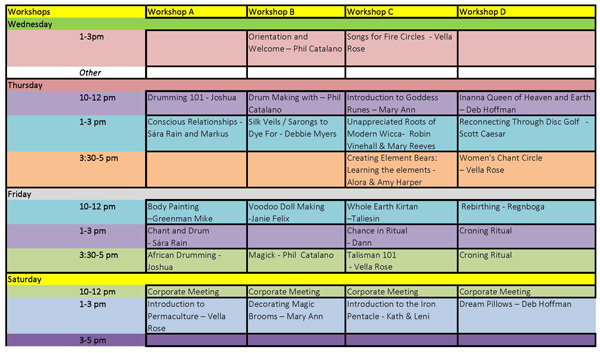 Pre-Registration Workshops
The following workshops require registration in advance of the retreat so the facilitator can prepare materials and possibly collect a fee.
Shaman Hoop Drum making workshop w/ Phil Catalano. Phil has been taught by 2 different teachers, has made more than 20 Drums, and has been teaching classes for 7 years. This workshop will concentrate on a particular design made popular with the availability of pre-made hoops and the availability of skins and hides. The techniques are taken from the traditional methods and updated for the use of more contemporary hoops and preparation methods. Prices range from $95.00 for 10" Deer hide to $200.00 for 24" Elk hide hoop drums. Contact Phil at wizard1phil@gmail.com or (303) 838-3018 for more information on hoop or octagonal frames sizes and Deer and Elk hides. Individual classes can be arranged almost anytime throughout the Festival on a case-by-case basis – depending on availability of materials. Pre-made Drums will be available in Merchant Row. All ages.
Creating Element Bears: learning the Elements – Alora & Amy. Come join us for an introductory basic elements/directions class & Element Bear making workshop. We will cover the five Elements, corresponding directions & associations, & decorate bears with corresponding colors & charms. This workshop is intended for adults/children ages 5 & up. Space is limited, please email Amy at 9.miss.amy.9@gmail.com to preregister, or call 720-297-7625 by August 1st. Additional note: materials will be provided for up to 12 attendees. Drop-ins welcome as long as space/supplies are available.
~~~~~~~~~~~~~~~~~~~~~~~~~~~~~~~~~~~~~~~~~~~~~~
What sorts of workshops happened in the past?
If you would like to present a workshop next year, contact the workshop coordinator at workshops@dragonfest.org or
fill out this form
.