Retreat
Dragonfest 2016: 
 Share Your Path
Wednesday, August 3rd through Sunday, August 7th, 2016
Rustic Creek Ranch (AKA Myers' Ranch), Pike National Forest, Colorado
Additional details to follow…
Though we don't expect any fire danger this year, it's always good to be prepared! Check out our Emergency Action Plan(PDF): Dragonfest Emergency Action Plan v1 6
Here is our nifty not-to-scale map, with entrance/exit and emergency exit marked out.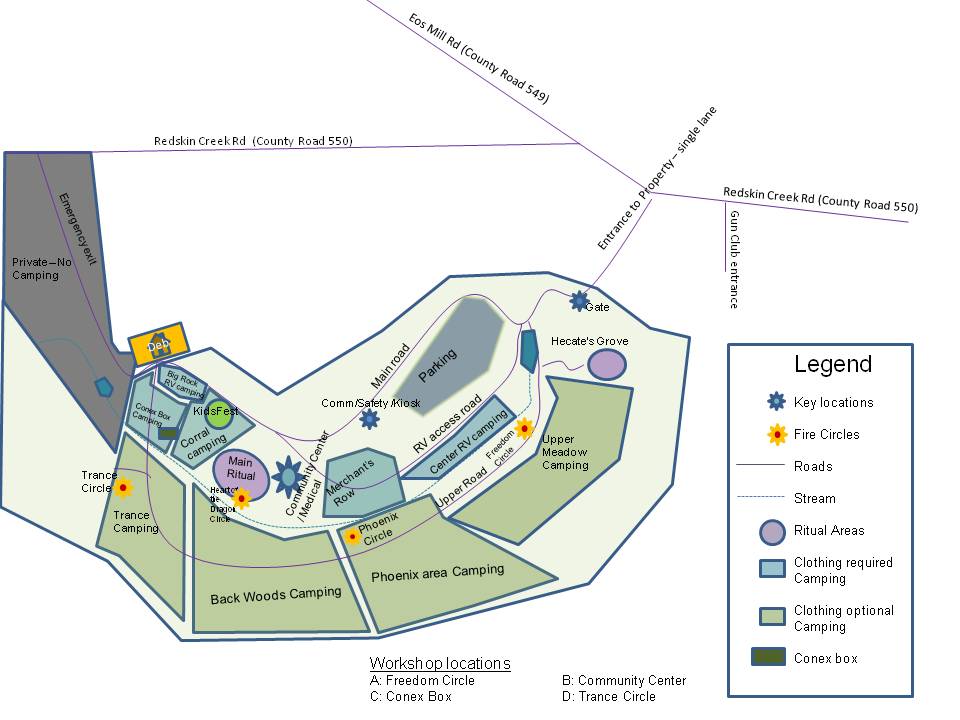 The Dragons are Coming
THEME
 Share Your Path
ARTISTS!
If you would like to design something for the retreat's t-shirt, we want to hear from you! Artwork  needs to be submitted by email to ops@dragonfest.org no later than April 15, 2016
Two winners will be selected for the retreat and volunteer staff t-shirts. They will receive free admittance to the Retreat. All other submitting artists will also receive a special thank you gift from Dragonfest of Colorado, Inc's 2016 Retreat for their hard work.
WHAT'S NEW!
We enjoyed the connections of a smaller retreat so much last year that we have decided that Dragonfest attendance will be capped at 500 members this year and in the future.
Hot Breakfast returns! Be sure to let us know which days you will be eating with us in the community center.
This year we were able to obtain durable canvas tote bags for each of our retreat members – we hope that you enjoy them and use them on a regular basis.
For those of you who were unable to attend last few years, our current site is beautiful and majestic, with big meadows, sweeping landscapes, a running creek, and a few ponds. It is located quite literally over the ridge from Castle Mountain. We have learned quite a lot from this landscape, so we're able to provide a list of recommended preparations that might differ from what we're used to.
This site has no improvements found at a typical campground so please be aware of the following when considering attending: there are no established utilities, meaning no power, no phone and no well water:
There is no reliable cell reception anywhere on the property; however the communications tent will have a phone for emergencies. People have had luck getting reception in odd places, so you could try your luck if so desired.

Limited potable water will be provided, but please bring as much with you as is feasible. (Recommendation: 1-1.5 gallons per person per day.)

In order to help prevent the spread of the pine beetle blight, please do not bring your own firewood – ample firewood is available for free on the site.
VOLUNTEERS
Do you want to be on staff for Dragonfest? We still have a few positions available.  Fill out a volunteer application.
Medical Tent – Do you have medical training/licensing? Anyone with current EMT, RN, LPN, MD, Medic or equivalent qualification is encouraged to apply. Please contact medical@dragonfest.org.
Youth Events – Dragonfest is seeking volunteers to work with the Youth of our community during the retreat. If you have children or teens attending the festival and would like to be more involved in their experience now is the time to apply! If you are interested in this staff position please contact youthprograms@dragonfest.org.
Kitchen – We have new volunteers in charge of the kitchen this year and they need your help! Anybody with commercial kitchen experience is preferred, but not necessary. Please contact kitchen@dragonfest.org if you are interested.
Site Preservation – The Site Preservation Crew will be working during and after the retreat to make sure that we leave the Dragonfest Site in as good condition as it was when we arrived, hopefully better.  We are looking for 2 volunteers per day during the retreat and 10 for the Monday after the retreat (Post-Retreat Site Preservation Crew, AKA PSPC).  If you would like to make the Dragonfest site better during the retreat, simply sign up for a workshift with the Site Preservation Crew.  If you would like to make the Dragonfest site better but do not want to do a workshift during the retreat AND can spend an extra day on site, apply for the PSPC. (Be aware – if you sign up for this crew and fail to appear the consequence will be severe.) To apply, please send your name, "fest-name" and PID (if you know it) to site-preservation@dragonfest.org.
Shuttle – Ever wanted to be a cab driver? Perhaps you were a cable car operator in a former life? Well if you can drive a golf cart then we can use your help. The shuttle coordinator is looking for someone to run the evening shift shuttles. Please contact shuttle@dragonfest.org if you are interested.
Setup/Take-down – If you'd like to help set up the festival infrastructure before everyone arrives and take it down after everyone leaves, sign up for set-up and tear-down. Setup and tear-down members are considered staff for the purpose of discounts. Once you sign up, you will be given the discount code.
REGISTRATION
Please Register online at http://dragonfest.org/retreat/registration/ be sure to follow all steps! If you need to send a check or money order the details are on the registration page. You can still fill out your registration form online even if you are not paying online.
RATES
Rates may be found on the registration page. If you choose to mail your membership registration fees the forms they must be postmarked no later than May 15, 2016 for the 25% off discount, or by July 1, 2016 to attend. Online purchase of membership must be completed by 11:59pm May 15, 2016, or by 11:59pm July 1, 2016. The online form must be completed by July 1, 2016 – so please don't procrastinate! If you choose to purchase your membership at the gate, the rates are $5 extra, cash and no change will be provided and you run the real risk of  being turned away at the gate due to the 500 person cap.
WEEKEND PASS
We are offering weekend-only passes again this year. A weekend pass will allow access from Friday through end of the Retreat. Pre-registration is recommended. We will accept cash payment (no change) on site as long as we haven't reach our cap.
MERCHANTS
In order to help our busy merchants out and to help provide a wonderful place for them to bring our retreat participants the best wares from around the world we are now allowing merchants to purchase their booth space before general registration opens.
Merchants register on the same form as all of our members. The online forms additional questions for you to answer. Merchant booth spaces can be purchased online with your membership. See the registration page.  If you have any questions or concerns please contact the merchant coordinator at merchants@dragonfest.org
WORKSHOPS
Have you always wanted to do a workshop? Have a favorite topic you would like to share with others in our community? Found a new way to astrally project or create guardians? Enjoy working with the youth of our community and are interested in doing a workshop with them? Please contact workshops@dragonfest.org. Space is limited so email today!
RITUALS
Do you have an idea for Women's or Men's Mysteries ritual under the stars at Dragonfest? Would you like to do a Sage Ritual or a Croning amidst the trees? How about a ritual to bless the babies? If you are interested in participating in or helping with any rituals at Dragonfest this year please contact rituals@dragonfest.org. Rituals are filling up quickly!