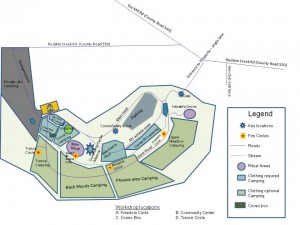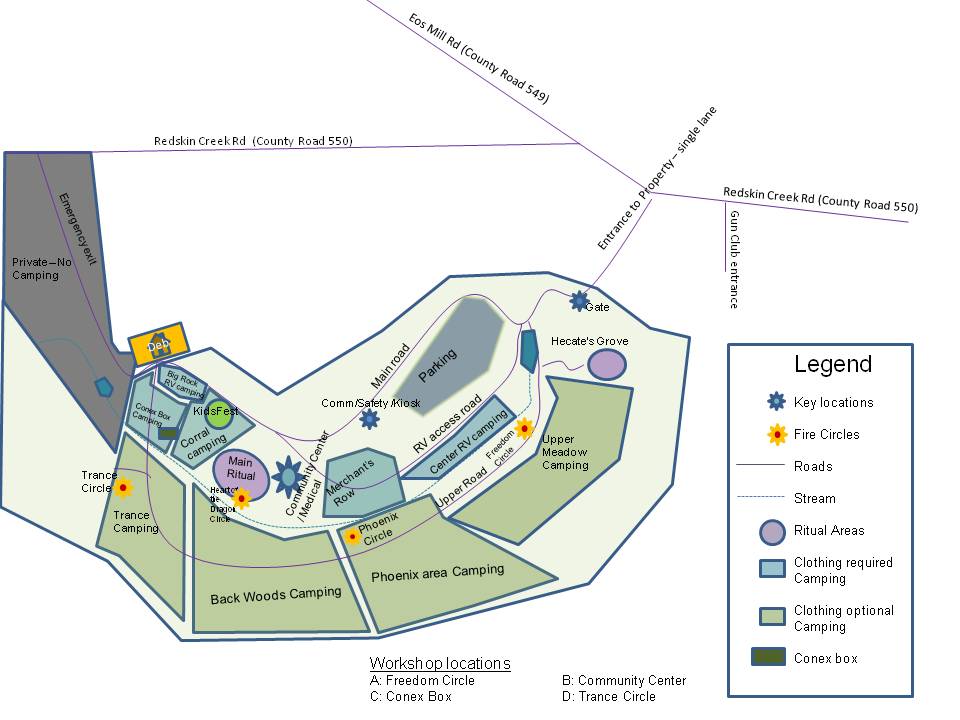 Ticket packets have gone out. Unfortunately the packet of information was printed incorrectly. You can download the most recent (& correct) packet here: Dfest 2013 Ticket packet. Your tickets are still valid so please keep those as you will need them to get in! You can look at the map to the right to get an idea where things are.
Don't forget – Gate hours are 10 AM to 10 PM on Wednesday, 8 AM to 10 PM Thursday thru Saturday, and 8 AM to 4 PM on Sunday.
Weekend Registration is still available at the Gate. Even though registration is closed for the whole retreat, you can still register at the Gate for the weekend. For $55, you can come on Friday for the weekend or $30 for a Saturday arrival. As always, at-Gate registration is cash only, exact change please. You will need to fill out a registration form but you can cut down on your time at the gate by filling it out here, print it out and bring it with you. At-Gate registrants are also required to fill a workshift.
Workshops: Preregister for Workshops – There are 2 workshops that require preregistration. See the Workshop page for more details including a schedule of events.
Rituals: There are a few rituals that require preregistration. Please visit the Ritual page for more details including a schedule of events.
Main Ritual: Lughnasadh – Also known as Lammas, is the time to begin reaping what we have sown throughout the past year, and recognize that the bright summer days will soon come to an end. The Wheel Turns – we recognize and celebrate our growth, celebrate the first fruits of the harvest. The God of the Harvest is the Green Man, The Horned God, so while this is a celebration of the first fruits, it is also the beginning of the Sun's decent. Sacrifice, transformation, death and rebirth are also part of Lughnasadh. Bob Key, who started the community center years ago, will be acknowledged as we add a Harvest Cauldron to the Ritual thus creating our soup the way we did when we were first starting. As we return to our roots this year, the Cauldron soup will be the foundation for our Harvest Ritual. Everyone please bring a dish to our Harvest  Ritual to share and something to throw in the Cauldron! Let us see what magickal concoction we can create to feed our bodies and our souls. Please bring your joy, love, and hope and join us in one of the oldest Dragonfest Traditions.
Suggestions for the Cauldron:
Barley, Lentils, Sprouted Beans, Chopped vegetables such as turnips, tomatoes, summer squashes, or any and all vegetables, vegetable stock, chicken stock, etc. Please email Alyx if you have any questions. We'll be having two Harvest Soups, one will be Vegetarian and the other Chicken.
A few items to note:
Dragonfest will not be selling ice this year. Please come prepared. Additional ice can be purchased at the gas station in Bailey.
We will not be serving a full breakfast this year but will have coffee, hot water, lemonade available as well as a few breakfast snacks. Please bring your breakfast, your cups and join us for a community breakfast and announcements.
We will have potable water for everyone's use but it is always helpful to bring water with you. Our recommendation is 1 gal to 1.5 gal per person per day. As we are at a higher elevation, you should drink more to prevent dehydration so please factor that into your plans.
Jefferson County has released the Fire Ban restrictions as of July 17th. Keep in mind that they can add restrictions at a moment's notice so it is best to be prepared for anything. We recommend using propane to cook your food and flashlights or gas lanterns for light sources. Please visit the Jefferson County website for vital tips and info on what the various restrictions mean.